Shopping Cart
Your Cart is Empty
There was an error with PayPal
Click here to try again
Thank you for your business!
You should be receiving an order confirmation from Paypal shortly.
Exit Shopping Cart
Forest Dog Rescue News & Updates
| | |
| --- | --- |
| Posted on January 6, 2014 at 6:01 PM | |
December Newsletter 2013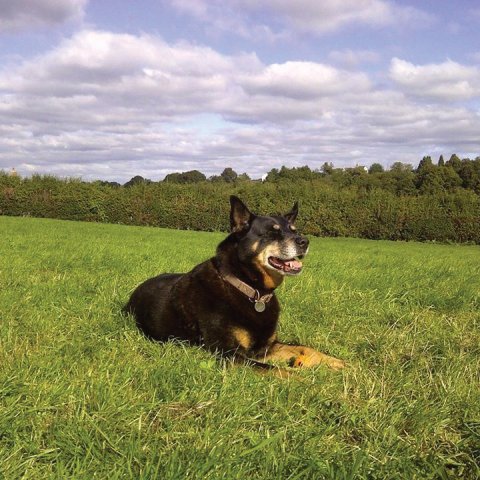 Hello everyone, please bear with us this month because we have to dedicate part of this month's Newsletter with sad news, we lost a very dear old friend this month.  Bandit (otherwise known as Bullseye) has crossed "Rainbow Bridge" to join all others who have walked the pathway before him. Bandit had been poorly, he did start to brighten up and everyone thought he was going to make it but unfortunately he didn't. This fella has been with FDR for 9 years and had a foster home waiting for him when he improved but sadly  he didn't get there, here's what a very close friend to Bandit has to say about him;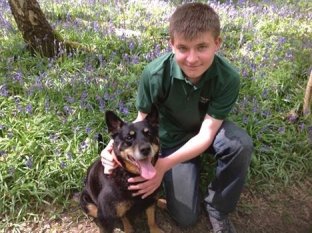 "Today I lost an amazing friend, who I will never forget. The first time I met "Bullseye" he barked at me, it sounded like aggression, later on as I got to know him, this barking wasn't aggression but fear! Fear from when his cruel previous owner had mistreated him all those years ago on a junk yard! From the first time I met him, I knew we were going to be the best of friends.I began to realise how soft and loyal this dog was and how intelligent he was! He was the first rescue dog I ever loved and probably the last. "Bullseye" has now gone but never forgotten. The suffering is now over boy! Every time I walk past that empty kennel from now on I will always think of you! You didn't have a great start in life but I'm so glad I got to meet you; I hope I made your life happier like you did mine! Goodnight Bullseye!     Tom Holford
From all at Forest Dog Rescue "Rest in Peace beautiful boy" x
___________________________________________________________________________________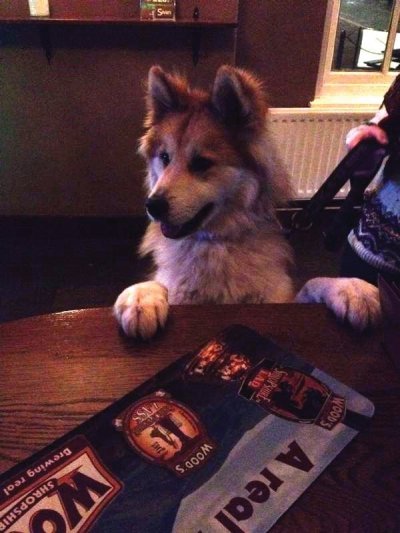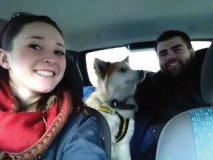 Happily many more lucky souls have found their forever families' during the December month but the one that really  stands out is "Archie" (Husky) he also found his new family after such a long time and now lives happily in apub! Archie was one of our long term dogs, he came in with Sheeba and both were very close. We hope Sheeba won't have to wait too long for her family to find her and she too can enjoy being back in a loving family. Meanwhile here are a few words and pictures from Archie's and his new family.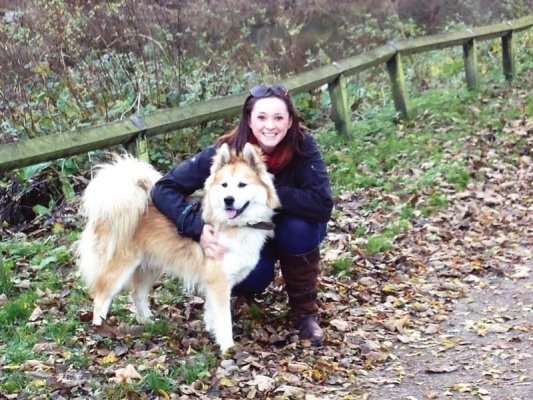 Hi everyone at Forest dog Rescue, Archie asked us to send this letter for him; he's missed you all so much and hopes you're all well.
"Hi everyone, its Archie here! I have SO much to tell you all already! I'm missing you all so much! It's been really strange moving into my new home but my new mum and dad are a lot of fun! There are pictures of me, mum and dad in my new car; I made sure I left all my fur in the back seat so everyone knows that's my space!
After my car journey we went out for a walk around my new town, there is so much to see and smell! We have been on lots of long walks since I came home –all the way to the next town and back! But I want to tell you about my new house, I live in a pub and there is loads of space for me to run around and explore! In my house I have my very own room with toys to play with and my very own bed! But the best part about my new home is…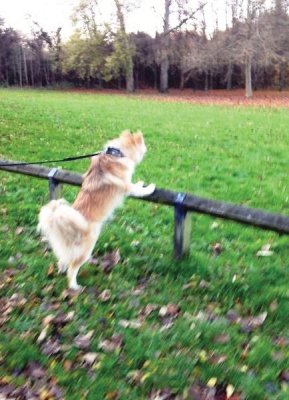 I DRINK FOR FREE!

 

I hope you are all ok back home and looking after Sheeba for me! I'll be writing again very soon! But now it's time for a well-earned snooze! Miss you all lots and lots!

Woofs and kisses,

Archie"


To say that Archie is the happiest one is probably an understatement, we are over the mood with him coming home, he has settled into our lives so well already and so many people have commented with how impressed they are with him lovely nature and temperament. His dog tag arrived today as well so now it really feels like he is part of the family! Both Jon and myself want to thank you all for this opportunity. he is such a loving and beautiful asset to our family and we know that that is down to all of you there and all the love and care that you have given him!

Thanks,

Kayleigh and Jon

 

FDR rehomed 236 dogs during 2013! That's 236 dogs in a safe and loving home and that's what its all about, lets hope 2014 is just as successful if not even better.

 Well that's all for 2013 folks, so bye for now, hope to see you at  FDR's  "Grand Charity Auction" February 6th at the Gainsborough Hotel, Kidderminster, Viewing 6pm - Auction commences 7.30, lots of fun to be had plus a popular local comedienne "Tim Green" entertaining all during the 15 min interval!

Take care and keep safe  Byeee x

 

"Happy New Year" to you all!

 

Categories: Newsletter

0

/