Shopping Cart
Your Cart is Empty
There was an error with PayPal
Click here to try again
Thank you for your business!
You should be receiving an order confirmation from Paypal shortly.
Exit Shopping Cart
Forest Dog Rescue News & Updates
| | |
| --- | --- |
| Posted on July 7, 2013 at 1:32 PM | |
    June Newsletter 2013
Hello everyone! I was only joking when I mentioned Christmas in the May Newsletter but guess what...Maureen (funding raising Trustee) is well on her way with her famous Doggie Christmas Crackers!!! She is falling short of kitchen rolls tho folks, so should you use kitchen roll at all, could you please save them for this very busy lady, thank you in advance.
Unfortunately Michael (new kennel manager) decided his heart lay elsewhere, which ever path you take in life Michael, we wish you well and hope you find your vocation soon!

Sadly this month, we said goodbye to 12 year old Vinnie, one of FDR's grand lads who has been in foster with Maureen for 8 years, he put up a brave battle but finally lost his fight with cancer. Maureen took Vinnie under her wing when he first came into FDR's care; this poor lad had endured such a horrible life beforehand and hated everything, possibly including himself too. It took 3 years of dedication, lots of love and patience to turn this boy around, so much so, if anyone else joined Maureen's family who was nervous and needed a confidence builder, Vinnie was the boy to do it, he was an amazing dog in the right hands, such a sad loss.
'Run free with your friends Vinnie, as with all who have left us in the past, you have left this life but you're in our hearts forever lad x'      


For all who continue to look for the happy life which Vinnie finally found, 2 of the lucky dogs for this month have been 2 of our long term boys, Zippy and Harley Marley!!! We had written about 3 of our long term girls and boys in FDR's twice yearly magazine'The Howler' and on the very day we went print, these 2 lucky boys had finally found their forever families! Fantastic!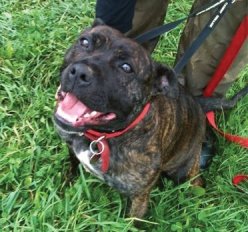 Zia is still looking for hers but don't give up girlie, they're out there somewhere, we'll get you there.

Other lucky souls who are now safe in their new families are Pearl, Crumble, Buster (now Bertie), Stella, Hector, Charlie, Harvey and  last but not least Tolly! That makes another 10 souls safe.
To quickly bring you up to date with activities at the kennels, the Top kennels are completely finished (always a few weaning problems) and there are changes in the pipeline for the top play area too.  

The Charity's events are all continuing to do well, Pauline and Ken's Coffee Morning was a great success, as was The Police Fun Day and Dog Show at Tenbury Wells, not enough rain to stop play so far and it looks like a glorious July too, fingers crossed.

 

Even more dogs are enjoying the freedom in the fields with the staff on their lunch break; Priest, Archie and Sheeba are also joining in the fun too,so rewarding to see these beauties living a normal life for a short time at least, hope their new families aren't too far away now.

 

Hanging baskets are looking fabulous, many thanks to Linda for donating 2 making it 8 in total and many, many thanks to Sarah and Wendy for taking on the task of watering all when I'm not there! xx And the rabbits have finally found another restaurant so plants are starting the recovery process, hope it works out as well as last year, bless the furry bundles!

 

News on the 'Memorial Garden' hopefully coming up next month 

 

 

 

Thank you for joining us once again and as always thank you so much for your continued support, see you again next month, til then stay safe and keep well, bye for now x

 

Categories: Newsletter

0

/